zurück zu "Unternehmen berichten"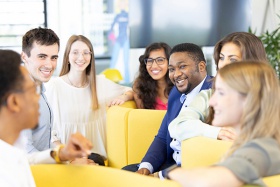 Jump start your career
– with Procter & Gamble and its world class leadership training
From its foundation 185 years ago as a soap and candle start-up, P&G today is a leading consumer goods company. We are home to iconic, trusted brands that touch 5 billion consumers worldwide and make life a little bit easier in small but meaningful ways. Our people are our greatest asset: With our philosophy of meaningful work from Day 1, and uniquely emphasising promotion from within, we place strong focus on employee development and are committed to finding and fostering world-class talent. Learn from our inspiring leaders, shape our supportive and welcoming culture, and place your personal development at the core of your work!
You don't need to just take our word for it. Alice, who joined as graduate Key Account Manager in Sales after a Masters in Management, said: "For me, [applying to P&G] was the first time that I became aware of how many well-known brands belong to P&G and how many of them I am using every ay. Looking for a job, I applied to several FMCG companies in Frankfurt, including P&G. P&G focuses strongly on who they are hiring and therefore has a holistic hiring process including tests and different interviews. I went through several application processes at different firms and even got some job offers for interesting roles; however, once P&G offered me a full-time position as a Sales Manager in Frankfurt, I did not hesitate to accept it. I knew that by joining P&G in a fulltime position, I will get the chance to develop my career in a dynamic environment, as you usually change assignments every two years. Moreover, P&G holds its reputation for being a 'training ground' for excellent Leadership skills and invests a lot in their New Hires, like organizing "Sales Colleges" with our DACH Country Leaders after the first few weeks. Now, after the first five months on the job, I can say that the transition from university can be challenging; however, my colleagues and my new boss offered me lots of help to ease the onboarding and I was able to take on much responsibility and get into meaningful work right from the start."
We are regularly seeking working students, Interns and graduate hires in a range of functions, all based in our office just outside Frankfurt in Schwalbach-am-Taunus. By applying to P&G, you will be assessed against our unique competency framework – our Peak Performance Factors – demonstrating the behaviours that we know correspond highly to a successful future career at P&G: leadership, collaboration, executional focus and much more!
By joining us, you have the opportunity to develop your career in an accelerated way from your first assignment, learning fast through regular role changes and both internal and external training & coaching. You'll also grow your salary, receive a range of competitive benefits including company pension plan, stock purchasing programs, Christmas and vacation bonus and much more..), and learn from the best and brightest minds across an international organization. We offer a flexible hybrid working model, which offers employees the opportunity to work from home up to two days per week, and moreover an overall benefits programme centred around individual needs, well-being, and financial security.
You can always see all open opportunities at www.pgcareers.com/germany-and-austria-jobs – we look forward to hearing from you!
Karriereplaner - Ausgabe: SoSe 2023