zurück zu "Unternehmen berichten"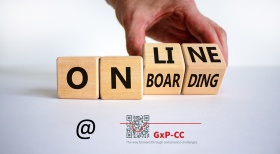 First 100 Days in GxP-CC
Since the pandemic hit the world, our employees have been working solely remotely. Therefore, all new colleagues have been onboarded entirely virtually over the past few months. Our company is gaining more and more employees, and 12 new ones have joined us since summer 2020. Because the first weeks in a new company are extremely important, we asked some of our new employees about their first impressions at GxP-CC to give you a little insight into our company.
Describe your first weeks at GxP-CC in three sentences:
Everybody was very welcoming, and GxPCC gave me all the tools to start the work. Having the opportunity to jump into an internal project in the first week and work directly with my manager and the company CEO was lovely. Also, in the first weeks, I had the opportunity to discuss new emerging technologies and prepare a workshop about them to present for a customer.
The first weeks have been running very smoothly and I am able to perform the training without any distractions. The environment has been very welcoming with new colleagues introducing themselves and saying "hi" despite the "working from home setting" which has been very helpful for meeting people. All-important working systems are properly and adequately introduced during dedicated onboarding sessions, making it very easy to perform all required activities without any delay.
My first weeks at GxP-CC were filled with learning and support. The teamwork within the company was very evident, as there was always someone willing to help or guide me as I got started. Furthermore, I had many resources at my disposal that made my onboarding go smoothly while I learned more about the company, its goals, and how to achieve them.
It was my birthday week, my first week at GxP-CC. There were not many activities from the project side, so I was able to perform some further training to cumulate a bit more. In the meantime, it was a chance to get to know my new colleagues.
I was nervous when I joined GxP-CC, but I was welcomed warmly, and the colleagues made me feel comfortable. All necessary information and equipment were provided for a successful start. It was quite easy to get to know your colleagues even though we work remotely, they are easily approachable.
What tips would you give to a colleague who is having their first day of work with us?
Well, don't get nervous we all have different backgrounds, and some topics we may find difficult to comprehend. Feel free to reach out to the manager and other colleagues if you have questions. No question is a stupid question. The first step is to start with LearnGMP training videos, and you can slowly grasp other topics.
If you have any questions about something, always look for colleagues from any team. They are always willing to help.
The main tip I would give a colleague on their first day is to not hesitate to reach out to others, everyone is always open and ready to help and support. I would also tell them to ask any and as many questions that come up, I have found that questions can lead to interesting discussions or even become good ideas for certain tasks.
Just chillax. For those who is junior, there is nothing wrong with Not-to-Know. And for whom is senior, welcome and enjoy.
Take lots of notes during the onboarding session, be ready to shortly introduce yourself to new colleagues, and don't forget to smile.
What has surprised you the most at GxP-CC that you did not expect at all?
In GxP-CC, I could actually feel the connections between colleagues, and how flat the management could be.
The immersive nature of the training-onboarding. I am really happy that already during the training period I am involved in an internal project which allows me to digest and directly apply newly acquired knowledge prior to being engaged with a client. This has been very helpful for understanding from very early on how projects work, where to look for relevant information in the SharePoint, and enhances teamwork.
The company is always thinking about innovating and generating content in various areas.
The thing that has surprised me the most is the warmth with which the team welcomed me and how inviting the company is. GxP-CC has a wonderful company culture that I don't believe can be found in many workplaces. The Onboarding and follow-up calls. Not only from your manager but also a team member reaches out to you and schedule Onboarding meetings regularly. Despite their busy schedule, they take time and explain the projects and answer any questions you may have.
We are very proud of the fact that we always manage to integrate our new colleagues into the GxP-CC family despite the social distance. The positive feedback from our colleagues: Girish Shetty, Dr. Thaleia Papadopoulou, Elizabeth Baptiste and Gabriel Sena clearly confirms our very wellfunctioning onboarding process.
Karriereplaner - Ausgabe: WS 2021/2022